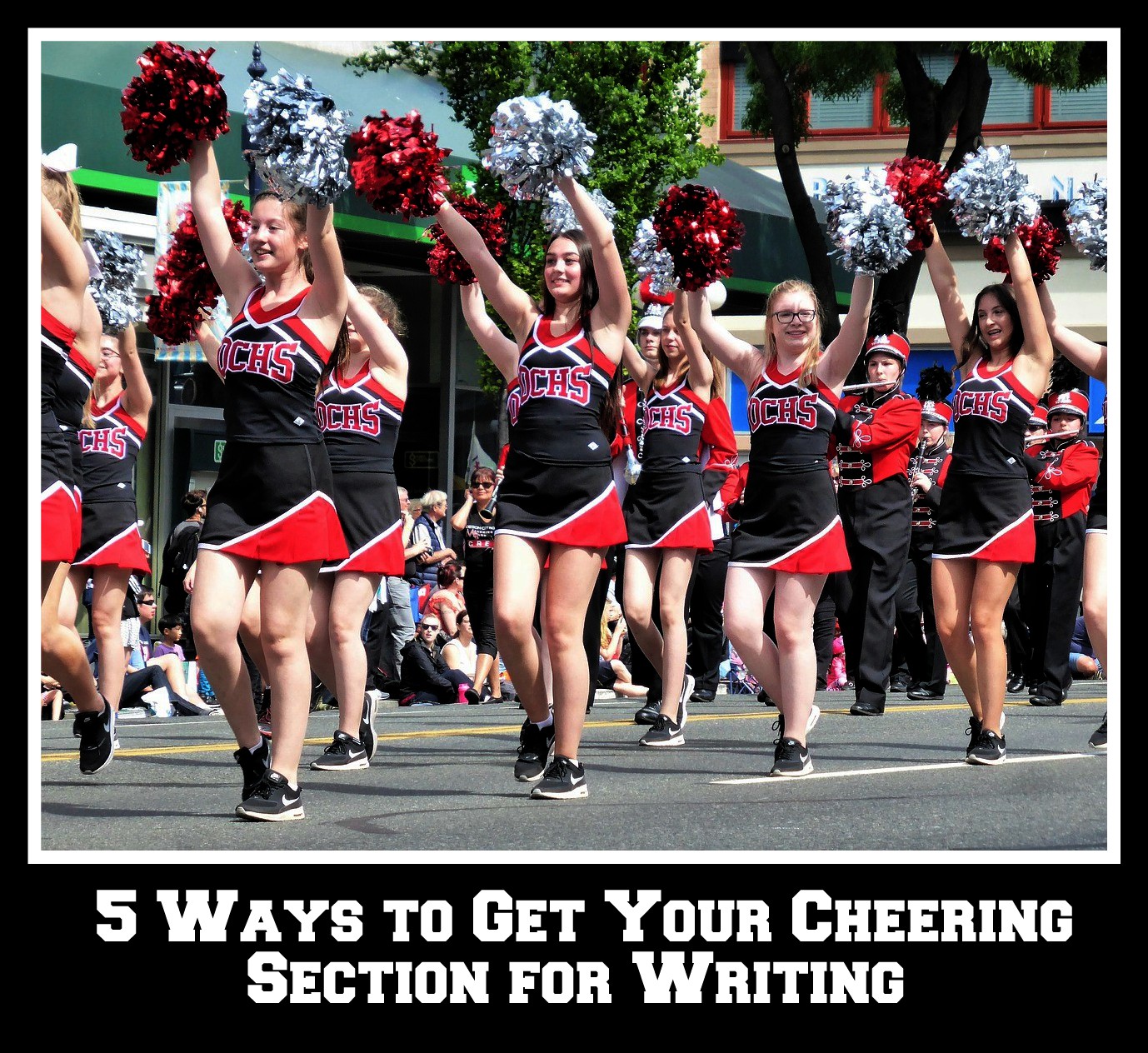 3 Ways to Get Your Cheering Section
In the middle of 2013, I almost gave up writing—twice. It had been a tough year. My first novel, published via the traditional route, hadn't performed up to my expectations. Though I'd had a mountain high of going to a writers conference and garnering an agent, that angle never panned out. I got a tough critique back on the novel that would eventually become Hunter Hunted. In short, I wanted to quit. Badly. To me, it would be so easy to set aside the computer, find something else I could do, and turn away.
Except for one thing.
God wouldn't let me.
An ember remained inside of me, but I needed to fan it into flame again. I needed a cheering section.
Writing is a tough, lonely path. When a writer also works full time, it's a tougher and lonelier business. A rigid schedule, such as 8 to 5, makes it harder to find the time to write. Saying no to other activities or time with family can become commonplace. The writer has to grab what time he can get, which may result in completing only a few pages rather than a few scenes.
That's why encouragers, a writer's cheering section, play a vital role in success.
They push the writer to keep going when she wants to give up. It may be due to writer's block, a poorly given critique, too many rejections, or lack of good sales. Encouragers know when to push the writer to keep at it.
They keep the writer grounded. When he focuses too much on writing, everything falls away, be it family, church, or vital activities that keep the writer connected. Encouragers know when to advise that it's time to step back a little.
They can become your biggest fan. Those who are encouragers are that way for one reason. They see the writing that's coming out, and they know it's good.
If writing is such a solitary profession, how can someone gather a cheering section?
Talk with family and friends. A writer's primary cheering section is immediate family, then friends. This group wants the best. Garner their support. They'll both spread the word about writing and keep you grounded. My husband knows when I need a break, even if I don't. He's also fearless about spreading the word about my books by putting the postcards I develop up in independent coffee shops when he travels.
Find an online group. It's good to have a virtual community of writers. This group can bounce ideas off of each other, pray for each other, and encourage each other when the going seems so hard. Our local American Christian Fiction Writers chapter has a closed Facebook group, and that allows us have a sounding board that isn't shared with the entire world.
Find a local writing group. One thing I've learned about writing is that, to quote one of my mentors, I missed the normal ship when it sailed. We writers are a unique bunch. We see life differently than most everyone else. Many times, others who aren't writers don't understand our eccentricities. That's why it's good to have a group to share worries, concerns, and good news. We have an organization in our area, Triangle Association of Freelancers, that provides just such a venue. Many areas have such groups. If not, start one.
Go to writers events. These events provide an excellent way to meet other writers from across the region or the country. Similar to above, they understand the foibles may writers have. I also have met friends with whom I still maintain contact. This has many benefits, from technical support to encouragement.
Acknowledge these cheerleaders. While it's good to have a cheering section, it's even better to acknowledge them. The best way I've found to do so is either in the dedication at the front of my book or the Acknowledgements section at the back.
Thanks to my husband and other family, I pushed beyond those tough events in 2013. I kept at my craft and learned from the critique. I found a new confidence in my writing style. In 2015, I gained a valuable mentor (thanks, Rich Bullock!). I also met an amazing group of writers through my local ACFW chapter and a critique group. We support each other, encourage each other to keep plying our craft.
As you start or continue in the world of writing, remember that your cheerleaders are your greatest asset.
Question: What discouraging situation in writing have you faced where having a cheerleader would encourage you to keep going?
I have not received any compensation for writing this post. I have no material connection to the brands, products, or services I have mentioned. I am disclosing this in accordance with the Federal Trade Commission's 16 CFR Part 255:
Guides Concerning the Use of Endorsements and Testimonials in Advertising."