All the Reason for Revenge – Maybe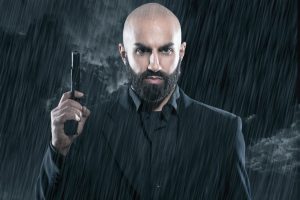 Blogger's Note: Today, you'll hear from the antagonist of Loose Ends, Hashim al-Hashim. His story begins long before that when he and Alex crossed paths in Orb Web.
You may think I have always been a cold-hearted killer. Not true, my friend. Not true at all. I lived what you might call a normal life. Secondary school rugby star. Weightlifter. Honor student. And boyfriend to the woman I desired to marry. I did so, but since her father hated me, we eloped. Our marriage lasted ten days until her father sent a commando team to kidnap her. It went terribly, terribly wrong. She drew her last breath in my arms.
Part of me died with her that night, the innocent part. Yet through it, I received new purpose. I moved to Baghdad and joined the insurgency there as the new government tried to stabilize with lots of help from the Americans. I learned many skills. How to make IEDs. How to interrogate someone. How to kill. CIA knew who I was, and they wanted me, even to the point of trying to infiltrate my innermost circle. The fool and his CIA handler died a most unpleasant death.
Then came the second event that changed my life forever. You can read the precise happenings of that fateful night in Orb Web. It served as the culmination to several security lapses I now realize were my own fault. I had habits. I liked to go to nightclubs in Baghdad. I picked up women on a regular basis. I liked to drink. All a deadly combination the CIA exploited. When I woke in darkness with my wrists chained, the scene leading up to my capture flashed before my eyes.
I figured out how long I was their prisoner in one of their black sites. Four months. Four months too long. Do you know what it's like to have no sleep for weeks on end? To lose your dignity in too many ways to count? Even to the point that you sob and will tell them anything as you beg for mercy? Part of my soul died that day. Then came the day of great fortune. They released me. My brother Tarek later told me two soldiers had been kidnapped. Their lives for mine. A perfect bargain.
I returned to the land of my childhood and reunited with my brother. I found comfort in family. Solace. And a new purpose. While my life has resumed a somewhat normal routine as I work as a bouncer at his nightclub, I have changed. I trust no one. I want revenge. I know who did this to me. Alex Thornton. Never will I forget those sea green eyes and dark tresses. Or her perfume. I swear its scent lingers in my nose even ten years later.
When I do find her, she'll wish she'd never, ever messed with Hashim al-Hassan.
I have not received any compensation for writing this post. The work mentioned in this post is of my own writing. I am disclosing this in accordance with the Federal Trade Commission's 16 CFR Part 255:
Guides Concerning the Use of Endorsements and Testimonials in Advertising."