What It Takes: Persistence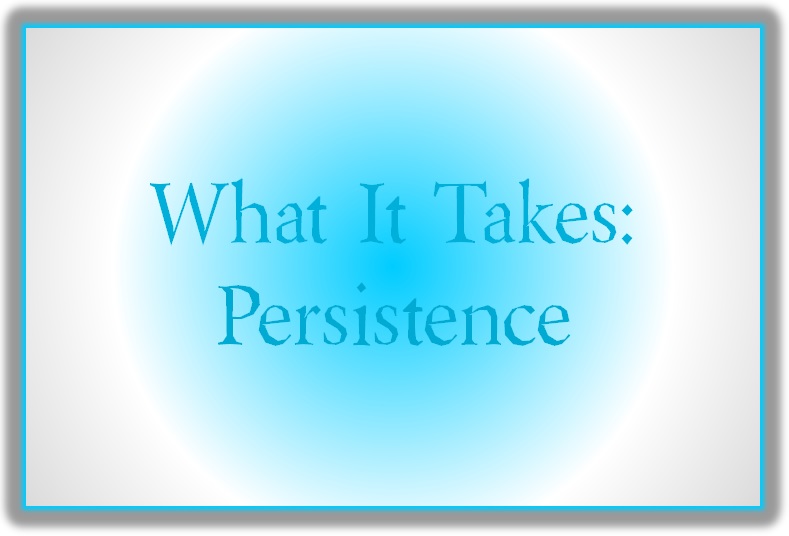 Writing takes on many sets of emotions.  Excitement when coming up with a new idea.  Intensity when putting words down on paper for the very first time.  Empathy when deepening characters.  Concentration when editing.  Frustration when realizing that not everyone wants to buy your book, even when they say they do.  Maybe even anguish when your book is repeatedly rejected even though you know it's good enough for traditional publishing.
Writing isn't an easy process.  If you've been at it for a bit, you know that.  Sometimes, it even takes sheer willpower to make it through the rough times.  As a writer, you may be someone who doesn't have the support you need from friends and family.  Or you may have worked at the craft for years yet find yourself confronted from moving from writing as a hobby to actually publishing.  Or maybe you've endured rejection after rejection and have yet to see any of your work in print and available to the public.  You've probably had times when you've wanted to throw in the towel.  I know I have.
What keeps us going when confronted by that kind of frustration?
Something called persistence.
As writers, we can't give up.  Something drives us to continue.
For me, I know God gave me this gift.  As with all gifts and talents, He expects us to use them to their fullest potential.  That includes writing.
Maybe you don't see God the way that I do.  That's okay so long as you recognize that the talent of writing is a talent bestowed upon you to use wisely.
That means persevering even when it's easier to give up and deny you ever had it.
How to continue?
If you give up, it will haunt you. There have been times when I've considered quitting the art of learning how to write fiction. Each time I've done that, I've realized one thing. I would regret it because it would almost feel like cutting off a limb. So I continue.
Well, write. Persist under all circumstances. You might be undergoing difficult times. If so, put off writing your novel but journal your feelings to process them. Regardless, keep writing something.
Avoid naysayers. Strangely enough, some of the biggest naysayers might be other writers who think that the pond—well, ocean—is too small for a new writer. They may tell you, "You need to write non-fiction before you write fiction." Or, "It's too competitive to be a writer in a fiction market." My best advice? Ignore them. There's always room for quality work.
Put on blinders. It's easy to gaze around us and see all of the obstacles. Maybe you indie-published or trad-published a novel, only to see it receive negative reviews. Remember that writing—and reading—is a very subjective business. What one person likes, another may not. Write what you like and enjoy. Otherwise, you won't get too far.
Be an encourager. Remember the naysayers I was talking about above? Avoid becoming one of them, even if you've had some success, especially if you haven't been a success. Small as you might be in your writing at this particular time, remember that there will be others who look to you in one way, shape or fashion. Encourage them as much as you can.
Can writing be a lonely business?  Yes, it can be.  Can it be discouraging at times?  Absolutely.  That's why you need to persist.  Surround yourself with those who support you.  Be a supporter.  Keep that focus to avoid the naysayers.  And most of all?  Keep writing.
No matter what.
This post does not mention any products.  Therefore, I am not receiving any compensation for writing this post.  I am disclosing this in accordance with the Federal Trade Commission's 16 CFR Part 255: Guides Concerning the Use of Endorsements and Testimonials in Advertising."