Characters That Can Steal the Show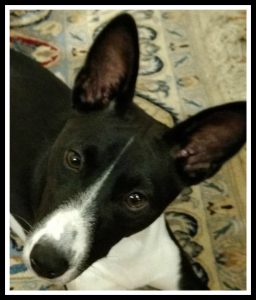 Pets color our world. They make us laugh. They  irritate us. They add companionship when we need to hug something.
Pets also add color to a novel. In Loose Ends, I provided Alex with two dogs, one a Coonhound mix and the other a Basenji. They are just as much secondary characters as Tiny and Sadie are. I had to give them both looks and personality so that readers could relate to them. How did I do it?
Here are things I considered.
Personality. Different breeds have different personalities. Some, like Coonhounds, are sweet natured and easygoing. Basenjis, on the other hand, are very independent, poised, and smart. They can be aloof with strangers. Add to that the different personalities of each dog, and they become almost like human characters.
For example, Rocky, the Coonhound mix, came into Alex's life shortly after she'd nearly died five years before the start of Loose Ends. He became a steady companion to lean on when her life fell apart around her. He has a soulful gaze and a friendly personality. To him, no one is a stranger.
On the other hand, Sabina joined Alex when she relocated to Weatherly a few months after she got Rocky. She's almost the exact opposite. She can be zany. She loves Alex and is fiercely loyal to her, yet she's very independent. And strangers? They have to earn her favor.
Looks. A pet's looks also enable the reader to relate to them. Dog breeds vary in color, size, and coat texture, among many things. Colors vary as well, even among breeds. With Basenjis, they come in four acceptable color schemes: black and white, red and white, brindle and white, and tricolor (black and white with tan points). How did I choose Sabina's looks? I only had to go to the next room, or to the floor at my feet, to find Bonnie, our Basenji girl, as a model. Her picture is shown in this blog.
Pets in relation to characters. This is the last thing I had to consider. Like human characters, pets have a unique relationship with the protagonist and maybe even the antagonist. Alex and Sabina are a lot alike. Passionate, loyal, a bit wild if the get too wound up. Rocky is more like Jabir—laid back, quiet, and steadfast. Both pets have an encounter with Hashim, the antagonist. Sabina reacts as the protector while Rocky greets him like a long lost friend.
Pets color our world, and they color our novels. Without them, things might seem less vibrant.  And sometimes, they can even steal the show.
Question: What novel have you read where pets played the role of a secondary character?
I have not received any compensation for writing this post. The work mentioned in this post is of my own writing. I am disclosing this in accordance with the Federal Trade Commission's 16 CFR Part 255:
Guides Concerning the Use of Endorsements and Testimonials in Advertising."