Why Loose Ends and What's Beyond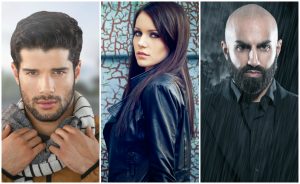 Lots of times when I talk with others about my writing, I often get questions related to my reasons for writing. Usually, I talk about the themes and the way they sprang organically from the characters. Sometimes, I talk about the characters and how I couldn't leave them alone.
I follow that pattern with the characters from Loose Ends. Most of them made their first appearances in Panama Deception, the first book of the Unit 28 series. Anyone who read this particular novel already knew about Alex, Jabir, Hashim, and Tiny. In Loose Ends, I introduced others.
I had to finish Alex's past and begin her future. Toward the end of Panama Deception, it became clear that more existed to Alex's familial history than met the eye. Loose Ends took a deeper look at that and the motives that drove the truth, which was kept hidden for thirty-four years. With major issues settled, Alex can now look forward to a future, one that she has no idea will be as rocky as her past.
I had to secure Alex and Jabir in marriage to prepare them for the future. When I was writing Panama Deception, it became clear that Alex and Jabir would one day marry. What I didn't expect was her impulsiveness. It happened, but just because they're now married doesn't mean their stories are over. Not by a long shot. They'll be experiencing challenges in the future that will test the mettle of that bond.
I had to finish Hashim's story. His particular history began in my short story, "Orb Web" and continued in Panama Deception. Loose Ends finishes his storyline and closes out Alex's past with him. Will he make a future appearance? We'll see. I don't rule anything out.
I wanted to deepen other characters. Loose Ends as well as Panama Deception contains Tim "Tiny" Daniels, Alex and Jabir's former boss who is also former CIA. His storyline within Loose Ends grew, and I knew that in the future, he had the potential to play a bigger role in the next installment of the Unit 28 series.
I wanted to introduce other characters. I've always envisioned Loose Ends to be one book of the Unit 28 series, which follows this particular unit. That means that I needed to introduce other characters to create new storylines. Loose Ends enabled me to do that as I introduced Sadie Callahan, Isa Haswi, and Rachel Daniels. Time will tell as to how their stories play out.
Suffice it to say the Unit 28 series is a long ways from being finished. I've already begun working on ideas for the next novel. Though it may be a bit in the future, it will be a bit darker than the previous two. And the light will fight against the darkness once again.
I have not received any compensation for writing this post. The work mentioned in this post is of my own writing. I am disclosing this in accordance with the Federal Trade Commission's 16 CFR Part 255:
Guides Concerning the Use of Endorsements and Testimonials in Advertising."