Choice A or B? Which Way to Go?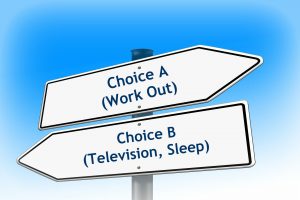 A few weeks ago, life had gotten to me, physically, mentally, and emotionally. I'd spent a couple of weeks ramping up exercise but not catching the rest I needed. Tropical Storm Michael came roaring through, dropping the pressure as the eye passed over Raleigh. Then on Friday came smelling solvent all day as we got our HVAC replaced. And let's not forget the fast drive in late afternoon rush hour to the office to pick up some work.
Bed called. Big time.
I couldn't. You see, at work we're doing something the State of North Carolina offers its employees called Miles for Wellness. It promotes the idea of movement to head toward fitness. We can walk, run, swim, or do any other exercise. The non-walking workouts get converted to steps. I'd decided to use this to kickstart my exercise. During the eight-week period, doing 10,000 steps a day would yield a total of 560,000 steps total. I chose 800,000 steps as my goal. Now I was paying the price.
As I left the office, I had to make a choice. To go or not to go to the gym. I went. I lifted upper body weights, and when I emerged, I felt energized and more awake than I'd felt all day. I had a clear head, pleasantly tired muscles, and quite an appetite. The best thing? That night, I slept for a solid eight hours. Yes! Success!
We're getting ready to be about three-fourths of the way through the Miles for Wellness. I feel like I'm definitely into more of a workout routine. The choices are coming easier. I've also started thinking about other aspects of my life.
Do I sleep in a half hour more, or do I go through the agony of getting out of bed (sorry, I'm not a morning person) so I can center myself by having some time with God? Do I drive home from work, bypassing the gym, simply because I'm feeling lazy? Or do I turn onto the road that will take me directly there? Do I turn the other way when I see a coworker struggling? Or do I offer to help her? Make the wrong choice, and I hurt myself and possibly others. Make the right one, and I can be of help and grow in the process.
Making good choices sometimes requires us to consider our options consciously. Once we do that several times, the decisions come easier until finally, they're so ingrained in us that we do them almost without thinking.
I'm sure I'll have more days when it would be easier to make the turn toward home rather than the gym. And when I do, I hope I make the right choice to work out. I'll feel better, for sure.
Question: When have you had to make a conscious choice to do something that would be of benefit?