The Best Rejection I Ever Got
I sat at the table in the appointment room at the Mount Hermon Christian Writers' Conference. Sweat built on my brow and on my hands. I gazed at the agent as he scrutinized my submission to him. Then he turned his kind gaze to me. We talked.
He rejected my submission.
What was my reaction? Did I cry? Get discouraged? Swear I would never write another word?
Nope. Hardly.
As we talked, he told me that while he rejected the premise, he did not my writing in general.
Then our fifteen minutes were up, and he handed me his note.
I still have that note today.
Why did he reject it?
Submissions to agents can be tricky. I took a chance with this particular manuscript. I knew it was on the edge, but at my first writers' conference, I was bold—or maybe foolish—enough to submit it to one of the best agencies in the Christian market.
Why did that rejection not discourage me?
One thing I've learned at writers' conferences is that whenever I meet with someone, be it agents like I did that first conference or writers and others at my latest, I can get feedback.
That feedback never goes to waste.
A wise writer will always put feedback to use.
What did I do with his rejection?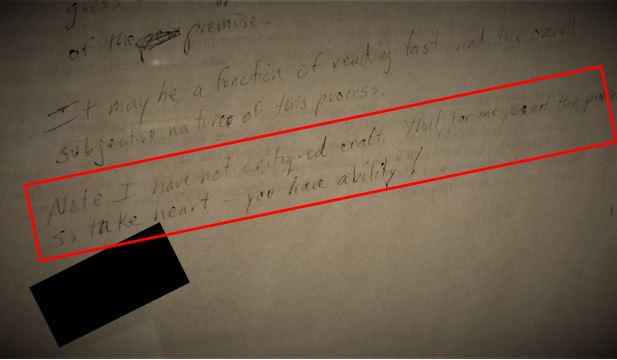 When I got home from Mount Hermon in 2013, I put that particular rejection note on my bulletin board. It's been there ever since. When I get discouraged, I take a look at it to remind me that one of the biggest names though I had the craft. Here's a picture with the phrase that keeps me going highlighted.
What has happened since that rejection?
Several times since that conference, I've come close to quitting. That phrase I highlighted has kept me going.
When I was half dead from the norovirus a month after the conference, I pushed through to complete my first proposal. Those highlighted words kept me going as I rewrote both the manuscript and the proposal, then when my new agent left the business.
Those words kept me going as I decided God was calling me into indie publishing. It's kept me going through numerous other obstacles in writing, including discouragement, misunderstandings by those outside of the writing realm, and the struggle to balance other parts of my life with writing.
And that manuscript that he rejected? It's now Hunter Hunted. I put it out on the indie market and haven't stopped learning since.
Many times, the rejections we can receive can actually turn out to be blessings.
Question: When did a rejection you received turn out to be a blessing?