Being in the Scene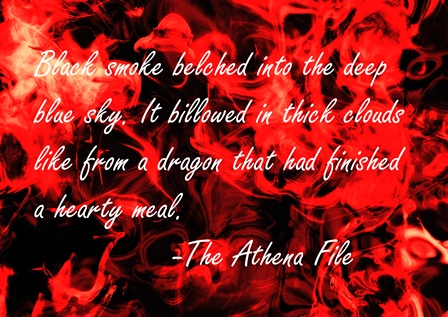 As part of my marketing efforts, I want to offer you a whiff of what I've been doing.  I've been making what's called posters (or, supposedly, memes, but I'm staying away from that term since I still haven't quite figured out what it means).  These posters contain quotes from the novel that may inspire you to think about the characters or other aspects.
Setting is key for a novel.  One of the things I try to do is to describe a scene so that you as a reader find yourself in that place, so to speak.  I want to capture what it feels like, what the characters are seeing, what they smell, what they hear.
This first quote comes from the scene in The Athena File that introduces Jonathan Ward, Abigail's brother and only remaining family member.  Almost immediately from these words, I hope that you can see what he sees as he arrives at the site of where a convoy has been ambushed.  Matter of fact, these are the opening words of the chapter.  It goes on to describe the scene in greater detail.  What he sees, hears, smells, and even touches.  Soon, you'll find yourself walking right beside him as he pieces together what's happened.  May you begin feeling what he feels as the rest of the chapter unfolds.
I have not received any compensation for writing this post.  The work mentioned in this post is of my own writing.  I am disclosing this in accordance with the Federal Trade Commission's 16 CFR Part 255:
Guides Concerning the Use of Endorsements and Testimonials in Advertising."